Principal's Welcome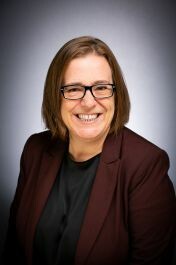 St Benedict's Catholic College serves Christian families throughout north-east Essex, striving to promote the values of our Christian faith throughout our daily life. As our mission statement says, we are proud to be an inclusive community where spiritual, emotional and academic growth are nurtured.
We are proud of our caring ethos and academic success. We believe in putting learning first. Learning at St Benedict's takes place in specialist teaching rooms equipped with the latest technology. The college is set in pleasant, spacious grounds which include hard play areas, playing fields and tennis courts. We have a well-equipped sports hall and fitness suite. Our chapel is used regularly by students and staff for worship, prayer and quiet reflection.
This website provides a glimpse of our community, showing students who are developing into happy, confident and self-aware young adults. There are many opportunities for them to thrive and shine, through high quality teaching and numerous extra curricular activities.
St Benedict's has a distinctive ethos and atmosphere that I am sure you will see reflected in the pages of this website and of our college brochure.
I warmly invite you to visit us to see our college for yourself and look forward to meeting you.
Mrs J E Santinelli
Principal